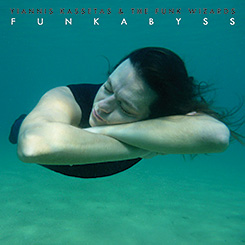 Tracks/Mp3 Samples
John Carpenter's Road Movie
Creatures Of The Abyss
The Zen Theory Of Funk
Crystal Dream (intro)
Crystal Dream
Giant Rainbow
Crystal Dream
s
Wildness
Sweetness
X-rcheia Blues
G. Rainbow (blue shades)
Liner Notes
Yiannis Kassetas & the Funk Wizards :FunkAbyss
The Funk Wizards are:
Yiannis Kassetas: tenor sax (1, 3, 5, 9), soprano sax: (3), piano (4, 10)
Manos Loutas: el. bass (1, 6, 7, 8), fretless (2, 5)
Costis Christodoulou: rhodes, synthesizers (1, 2, 3, 5, 6)
Vangelis Kotzabasis: drums (1, 2, 5, 6)
Loukia Palaiologou: vocals (1, 5, 6), lyrics] (6)

Special guests:
Clarence Penn: drums (3)
Jason Yarde: soprano sax (2)
Dimitri Vassilakis: tenor sax] (7)
George Kontrafouris: hammond organ (9)

Also featuring:
Dimitris Sevdalis: rhodes (7, 8)
Alexandros Drakos Ktistakis: drums (7, 8)
Vassilis Xenopoulos: alto sax (1)
Apostolos Sideris: el. double bass (3)
Dimitris Karalis: alto & soprano flute (5)
Adedeji Adetayo: vocals, guitar (8)
Serafim Bellos: drums (9)
All tunes composed and arranged by Yiannis Kassetas
Mastered & mixed by George Priniotakis at Artracks Studios, Athens, Greece
Recorded by Alex Bolpasis & George Priniotakis at Artracks Studios, Athens, Greece
Produced by Yiannis Kassetas
Underwater and group photos by Dimitris Karalis
Graphic design by Andreas Vakalios
Inspired by the sea, featuring all original compositions and arrangements by Greek saxophonist Yiannis Kassetas, accompanied by the Funk Wizards.
Underwater and group photos by Dimitris Karalis
Graphic design by Andreas Vakalios

Title idea by Dimitris Karalis and Spiros Liaggis.
Sweetness was recorded in November 2008, all other compositions were recorded in 2009.
℗ & © 2009 Puzzlenusik under license by Yiannis Kassetas.
Made in Greece.
Contact
Kassetas.com
Facebook
:
facebook.com/yiannis.kassetas
View Yiannis Kassetas' Artist Page