Originally
Peter B. Robinson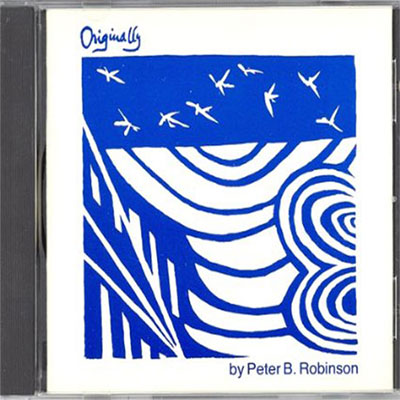 Liner Notes
James O. Bolyard: bassoon (A)
Tommy Cecil: acoustic bass (B)
Sitaram Gadgil: sitar (C)
Rachel Ann Harris: cello (D)
;2 Russell Mitchell: tenor sax (E)
Daniel Prabhakar: tabla (F)
Peter B. Robinson: Steinway piano (G) , synthesizer (H) , alto sax (I)
Dallas Smith: electric bass (J)
Mike Smith: drums (K)
Chris Vadala: alto (L), tenor sax (M)
Rudolph Vrbsky: oboe (N)

All compositions by Peter B. Robinson
Produced by John Burr and Peter B. Robinson
Recorded November 23 & 26, 1988 at Omega Studios, Rockville, Maryland
Recorded and mixed by Bob Yesbek
Cover illustration by Martin Penrose
℗© 1988 Peter B. Robinson

Tracks/Mp3 Samples
Waiting for Love (B,D,G)
May 75 (G,I,J,K,N)
Scottish Mute (B,D,G,H)
Roal Blue (E,G,J,K)
Niantic (G,J,K)
Mary (B,G,I,K,M)
Starbrite (G)
Djakarta (A,C,D,F,H,J,K,N)
Costello's Bounce (J,L)
Lucky 13 (G,J,K)
Antonio (G)
Out of the Blue (G,H,J,K,L)
Until Now (B,G)
What They Call Living (E,G,J,K)
Lucy (B,G,K,N)
Internal Revolutions (A,D,G,H,K)
Love is Forgiving (A,B,D,G,K,N)
NOTES ABOUT ORIGINALLY by Peter B. Robinson Thanksgiving, 2014
When I was just a few months out of college, in the fall of 1972, I was fortunate to get to spend several hours talking with John Kander at his home in NYC. He gave me some great advice about songwriting which I've never forgotten. He said that writing using an instrument, such as a piano, would limit your imagination to your abilities to express through the piano. He said to create instead using your imagination: write what you can hear in your head. Of course, this leaves you with the problem of how to express to others what you hear in your imagination – it's so different in that way from the singer/songwriter model, so dominant today, in which everything is so bound up in the singer/songwriter's self-expression of his/her songs. I have always been truly grateful to John Kander for his advice: "Originally" comes from that mind-set.
"Originally" is, first and foremost, a personal search for melodies. I personally believe that:
1) compelling melodies are hard to write and rare, and
2) they're valuable, they're what people like to hear.
I started piano lessons at 6, and alto sax lessons at 9, and continued these through high school in Kansas City where I'm from. When I was 13 I rebelled against the classical piano journey and switched to jazz piano improv and theory. Bill Evans on piano and Paul Desmond on alto sax were my heroes. The point of this is: I thought about songs as being melody lines with chords – like you'd see in fake books – usually presented with no accompanying lyrics. Of course, everyone knows that lyrics are important [There are so many anecdotes that attest to this point – for example, the one where the wife of Jerome Kern says, "My husband wrote Old Man River," and the wife of Oscar Hammerstein interrupts and says, "Oh no, you're wrong: your husband wrote Daaa-Daaa-Da-da, and my husband wrote Old Man River!"]. But me, I felt motivated to express my feelings using just melodies & chords. Words hid from me. I felt sometimes that the lyrics existed, I just didn't know what they were, and I would listen as hard as I could, like those radio telescopes searching the skies for signals from distant civilizations, but I just couldn't hear the lyrics. So these 17 songs of "Originally" are presented without lyrics. Maybe you will hear some.
Waiting for Love (track 1)
This piece was two separate melodies I wrote back when I was 20. At that time a friend of mine, a painter named Antonio Descamps, suggested I find a way to put them together as one, and he was right, and I did. (The 2nd melody is the dance interlude played by cello in the middle)
To me, the melodies are about wanting to feel in love, to be in love. I thought of 'romantic love' as a state of grace, a feeling that all is right in the world (which of course it isn't, but being in love can make you feel that all is right with you… attaining the ideal). I write from feeling. Thought is important of course, but feeling is even more important. Thought is a tool, a means to an end, but the goal is to feel, to intuit a balance… and balance is not symmetric: symmetry is a stifling mental overlay which ignores the inevitable asymmetry of reality in colliding motion. There is a balance, but it is not symmetric, and it is therein where beauty finds its compelling expression, and that is feeling.
It's my fault this song isn't performed better – it deserves a better pianist than I am.
May 75 (track 2)
How I felt in May 1975. For me, one of the joys of this track is listening to Rudy Vrbsky play oboe. Rudy was with the National Symphony, and I was so pleased in 1988 when he said he was willing to help with "Originally" (he plays on 4 tracks). On this one he's serene on the intro, and in the final minute he dazzles with a series of cadenzas that delight me every time I hear him. I remember him telling me, 'Just write whatever you can imagine, and I'll play it' – and he was right: it was so much fun, writing improvised jazz lines and watching Rudy roll them out – amazing.
Scottish Mute (track 3)
Around the end of August and into September 1975 Kenneth Miller and I spent 18 days in Scotland and drove all around, including a week staying in an incredible castle near Dornoch. In my head I kept hearing a modal melody that feels to me Scottish, and it was like a puzzle to work out the balance of its architecture. I played it to myself on piano for a dozen years, but by late 1987 I came to realize that cello felt right for it, and Rachel Ann Harris was kind to learn it and record it on "Originally." Since that time, Lori Barnet gave a great performance of it at The Corcoran Gallery (in Washington, DC) in the mid-1990's, and that led to an expanded 3-section concertino version using piano/bass/drums jazz trio accompanying cello – that version (not yet recorded) was performed at The Kennedy Center November 15, 1996 as part of the National Symphony Orchestra's pre-concert series.
Roal Blue (track 4)
Pronounced "Royal Blue" for Roal Enix, who pronounced his name that way. Roal was a very talented abstract painter I knew in Kansas City. Last I heard, Roal's in Oklahoma, and I hope he's doing well. He wanted me to write something more abstract and so I wrote Roal Blue, with its offset ascending lines and its built-in drum solo holes – but I'll never catch up with Roal on abstract (he did get me ready to like Hans Hoffman's paintings, and I am forever grateful to Roal for looking beyond the horizon).
Niantic (track 5)
My family drove every summer vacation from Kansas to a little place called Jordan Cove in Connecticut. It was magic to grow up summers that way and it was so unlike Kansas, a different world. The nearest town in Connecticut was Niantic, and my dad and uncles co-owned a fishing boat and kept it at a dock there (the name of the boat was Jayhawk!). Great summer memories. So I named this song Niantic; it feels peaceful and placid. Dallas Smith on electric bass does great work, soloing on the 2nd time through, very lyrical. It reminds me a little bit of the Beatles instrumental "Flying"….
Mary (track 6)
I wrote this melody when I met my wife Mary in the summer of 1978. It's a pretty melody – not as pretty as Mary, of course, but that's not possible. Back in 1990 or 1991 I talked with Dave Frishberg after a concert he gave at The Cosmos Club in DC. He is such a great writer, and his lyrics are so wonderful. To me he's up with the greats. I had an understandable but misguided fantasy that if he could hear "Originally" maybe he would hear some lyrics for some of my melodies. So I asked him, and he very kindly said, "Sure, I'll listen – send me some." It took me a few weeks to get up my nerve and then I mailed him some lead sheets and the CD. Awhile went by and I got worried, but then I got a very nice letter in the mail from him – I've got it here somewhere, but I'll paraphrase what he wrote. He told me he liked Mary the best for adding lyrics, but he advised me to write my own lyrics, and that's a course I've pursued since that time. He said that writing songs (with or without lyrics) was like having a private garden of your own, where you go and experience flowers which no one else knows exist (which is a lovely zen-like thought, and I have lived and breathed-in that thought, I do believe I have some understanding of it, and I am sincerely grateful to Dave Frishberg for advising me in that way… however, when one's intention is to create popular music, there is a certain internal collision between the concept of 'popular' and the fact that no one except you is experiencing the songs blooming in your garden… and that in turn is why I am so grateful to Blue Truffle Music for wanting to include Originally in their catalogue. I honestly find great confusion between what reality is and what it should be – it's to my discredit, I'm sure, but I am motivated by what I think should be, and what is de-motivates me. I'm working on it!)
Starbrite (track 7)
Starbrite begins a sequence of 4 tracks, 7 through 10, which I believe comprise a wonderful and spontaneous journey in music through a rapidly changing landscape of styles, all of which hang together and to me say "jazz". First is Starbrite, which I consider to be an interpretation of Joni Mitchell's song "This Flight Tonight" which I learned from her album "Blue" which I consider to be one of my favorite albums of all (as in 'take to a desert island'). I'm proud of this piano solo, throughout, and it segues so nicely into the next track.
Djakarta (track 8)
Right in the middle of this 17-song project, everything comes together to express the melting-pot spirit of "Originally" -- consider the following: Around 1953-55 my mom's parents lived for 2 ½ years in Jakarta, Indonesia. I was quite young (born in 1949), and back in Kansas Jakarta seemed as far away and as exotic as could possibly be. My mom's parents were in their early 70's – he took a job as visiting professor there, and they came back to Kansas because she got sick, and she died soon after they got back. He lived on a couple of years, would stay with us a lot and blow smoke-rings with his pipe and tell stories. Jakarta was a faraway place. Next: In 1979 in Kansas City, when I was about to turn 30, I had a great piano/bass/drums jazz trio and I was writing songs for the trio. In 1978 I had had a fantasy about wanting to play something like a harpsichord with the trio, and so I visited a maker named Oliver Finney in Lawrence, Kansas (where my parents had gone to college at Kansas University and where her dad had been a professor for decades until he retired and went to Jakarta). Oliver Finney suggested that I consider using a virginal with the trio – a virginal is a precursor to the harpsichord, it's simpler, uses just one string per note. It's shaped kind of like a coffin, about 54 inches long, with the keyboard on one of the long sides. He built me one out of cherry, using a 1620 Flemish model, quite simple, very beautiful in a Spartan way. I still have it. I found that playing it in a certain way could generate an energy similar to a 12-string guitar sound. That instrument became the inspiration for this song "Djakarta" although with virginal/bass/drums it sounded quite different from this recording on "Originally". Next: late in the summer of 1988 in DC I saw that there was going to be a concert of sitar and tabla just a mile and a half from our house. I wanted to go, it sounded exciting, exotic, and so Mary and I went, and it was great. Sitaram Gadgil on sitar and Daniel Prabhakar on tabla were incredible together, so expressive and fluid. I was very impressed, and I got the idea that having them play on Djakarta would be a wonderful conjunction. I talked with them, and I was so pleased that they were willing. During the fall I took cassette versions of Djakarta to them, the idea being that they could 'learn' the song that way to prepare to record in the studio in December. What I learned is that they have an entirely different approach to performing music. In fairness to them, I may not understand how they perceive music and music performance, but it seemed to me that they start with a state of mind – that is, their methodology, their goal, is to achieve a state of mind and then from that state of mind they spontaneously express music which flows from that state of mind. It's a wonderful concept, it's probably like how the jazz musicians who made "Kind of Blue" with Miles Davis felt, and wow, there's no knocking that as a creative process. But for us, in the recording studio in December of 1988 trying to wrap up Djakarta, which was the last track we recorded, it was a challenge. I knew that Sitaram didn't use written music as a guide – that's why I had given him cassette versions – but I did not know that he viewed music as not having a pre-existing structure. Instead, he perceived music expression as being linked to state of mind and time. From his perspective one would not play something the same way EVER, that wasn't the goal. Different time, different state of mind: different result. So no map, no lead-sheet. It was quite a different way of looking at making music together. Reminds me of the Beatles mantra song, "All Together Now" – I wish we had had time to bond together in that way, but, as I say, it was the last track we recorded and the studio was expensive, and I was the only one paying the bill. So, the trio (synthesizer instead of virginal along with bass and drums) joined by bassoon, cello and oboe recorded the in-time main section of the piece, using their charts, and then Sitaram and Daniel came last and recorded their contributions. It was an amazing process. We were stuck: the plan was that Sitiram would record a free-form introductory section, whatever he felt, and then we would turn on the pre-recorded in-time main section and he and Daniel would have headphones and add as they felt appropriate. But Sitiram was like an actor saying, "What's my motivation?" He didn't know how to achieve the state of mind from which he would self-express the introductory section. If time flows and music flows, then it doesn't make sense to go backwards in time and interject something that is out of chronological sequence. I can see why we felt stuck. But my wife Mary saved us: she went from the control booth and suggested to Sitiram that he imagine a village in the early first light of dawn, no one is awake, and then the light comes and the village begins to awaken. He liked this image and used it to create the intro as you hear it here, and then the tape rolled and Daniel joined him playing through to the end of the pre-recorded main section. The odd thing was, Sitiram in his playing emphasized the note "D" throughout the piece – it was as if he felt "D" needed to be there (I had not expected it, to tell you the truth). I decided, in retrospect, that it was the "D", the silent "D", which was missing from Jakarta, and Sitiram was putting it back, and certainly not silent in this version. And then, lastly: I had a memory of a shortwave radio we had had when I was a kid at home in Kansas in the 1950's, and how it found those Morse code sounds that sounded so far away. I decided to rent one for a night and see if I could record a Morse code signal to use as the end of Djakarta. Late that night I searched the dial, found a great signal, recorded it, took it next day to the studio and tacked it on as the close of Djakarta – and wow, it was all "D"'s, perfect… and, it led perfectly to the next track:
Costello's Bounce (track 9)
That same 1979 trio in Kansas City got repeating gigs at a place called Costello's, out at Ward Parkway and 85th (if I remember right). The building is still there, but it's not called Costello's anymore. Vince Costello was a retired football player who had played with the Chiefs, and this was his restaurant. We liked playing at Vince's place, and so I wrote this be-bop style riff, called it Costello's Bounce, and framed a handwritten lead sheet of it and gave it to Vince. I used to play alto sax myself on it, but on this version Chris Vadala is playing – he's a lot better than I ever was. The be-bop is a great echo with the preceding Morse code.
Lucky 13 (track 10)
Another jazz piece that came out of that 1979 trio. Listen for the high-hat cymbal riff that goes Zzzzz-dt-dt, Zzzzz-dt-dt, over and over – you know the one (it's the same rhythmic motif that harks back to the 20's 'doo-whacka-doo-whacka-doo'). What happens in Lucky 13 is it gets turned upside down: first it's straight up, then upside down, then back to right side up, all within the first section of the melody (after the intro). There is a motif of 13 involved – not intentional, just there, built-in. [Do you know the old story about how to carve an elephant?: get a block of wood and carve away everything that isn't an elephant… I always thought it was just silly, but really there is truth in it: you can intuit your way, like Robert Heinlein's 'grok' – of course, this way of looking at things can very easily lead one astray, but who's to judge?]. Lucky 13 is definitely a jazz tune, and I'm proud of this recording of it. Mike Smith on drums and Dallas Smith on bass are both great.
Antonio (track 11)
Not a jazz tune, I suppose, but I am proud of it. It's actually the opening of a much longer classical piece that I hope to work out and perform someday, possibly with a willing violinist playing lead with piano accompaniment. Kind of Spanish; the same Antonio Descamps from track 1 was the inspiration – he was Cuban.
Out of the Blue (track 12)
A pop tune. I see it as one of the melodies in search of a lyric. I originally wrote it in back in the winter of 1972-73. It's simple, I've always liked it.
Until Now (track 13)
I see it as a Broadway ballad melody – another melody in search of a lyric. Wrote it back before college, in 1966 or 1967.
What They Call Living (track 14)
Definitely a jazz tune. It can be done as a ballad, or as it is here, with a beat. Jobim-esque harmonies.
Lucy (track 15)
In my view, a Broadway-style ballad. Rudy Vrbsky on oboe does a great job. To me this is one of the stronger melodies. It seems to roll out as if inevitable and right in its progression.
Internal Revolutions (track 16)
Another experiment from the 1979 trio, originally using the virginal. This time used a fancy harpsichord and transposed the whole thing (because the harpsichord was pitched down a half-step), and the result was I was too often clumsy, which is my fault, but I wish we had a cleaner version because I am proud of the piece, though not of my performance.
Love Is Forgiving (track 17)
The final track and intended as a bookend with the opening track. I'm proud of this piece: it has that intuited asymmetrical balance that I attempted to describe earlier. The chamber feel is fairly effective, and the written solo cameos by bassoon and cello work well. The melody is simple and enjoyable. This track jells.
If any of you out there want to see a lead sheet of any of these songs, please let me know: I'd be glad to send you whatever I could. Do you know Bill Murray? I don't, but I think he's great. Tell him I say hi.
Review - Steven Croley 2014 10 30
Once in awhile, you come across the delightfully off-the-beaten-path recording. Pianist Peter B. Robinson's CD, "Originally"--several steps off the path (yet borrowing knowledgeably from tradition)--constitutes one of those discoveries. At first blush, this collection of original tracks is striking in its instrumentation. Rare is the jazz collection that features oboe, bassoon, *and* sitar. But Robinson, who himself plays synthesizer and alto sax, as well as his mainstay piano, pulls it off. The recordings sound natural, exactly right at each moment, as if you have to pay close attention to notice "hey that's an oboe soloing now." The session contains some compositions that are mostly arranged, and many others that feature improvisation from talented soloists. Often bluesy, at other times modal or heavily percussive too, one hears influences from Bob James to McCoy Tyner. Never showy or affected, the tracks move effortlessly and respectfully across swing, blues, bop, and Latin branches of the jazz tree. What unifies this session is the centrality of melody. Each track features a distinctive melodic voice, supported and complemented by the harmonies and rhythms that surround and always support it. The CD sometimes swings, but it always sings. Its melodic statements are fresh as they are memorable. Originally, indeed. Highly recommended.
View Peter's Artist Page